Researchers create atom-thick alloys with unanticipated magnetic properties
Substituting atoms in the process of making two-dimensional alloys not only allows them to be customized for applications but also can make them magnetic, according to Rice University scientists and their collaborators. A new paper in Advanced Materials outlines how researchers at Rice, Oak Ridge National Laboratory, the University of Southern California (USC) and Kumamoto University in Japan used chemical vapor deposition (CVD) to make atom-thick sheets and, in the same step, tailor their properties by adding other elements through a process known as doping. They discovered by surprise that they could also give the 2-D sheets magnetic properties. Graduate student Amy Apte (Applied Physics) is quoted.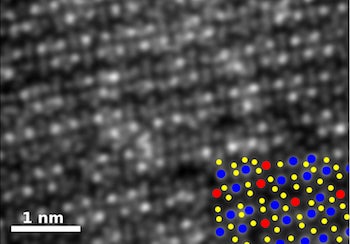 An image of rhenium-doped molybdenum diselenide shows how the material's atomic structure has been rearranged by the addition. The key shows the positions of rhenium atoms in blue, selenium in yellow and molybdenum in red. (Credit: Image by Oak Ridge National Laboratory).