The Smalley-Curl Institute held its 4th Annual SCI Transdisciplinary Symposium on Friday, February 8, 2019 in McMurtry Auditorium of Duncan Hall.

The full program information is online here
Thank you to all who participated in our 2019 SCI Transdisciplinary Symposium! We are happy to announce our list of winners for Best Presentation. Congratulations!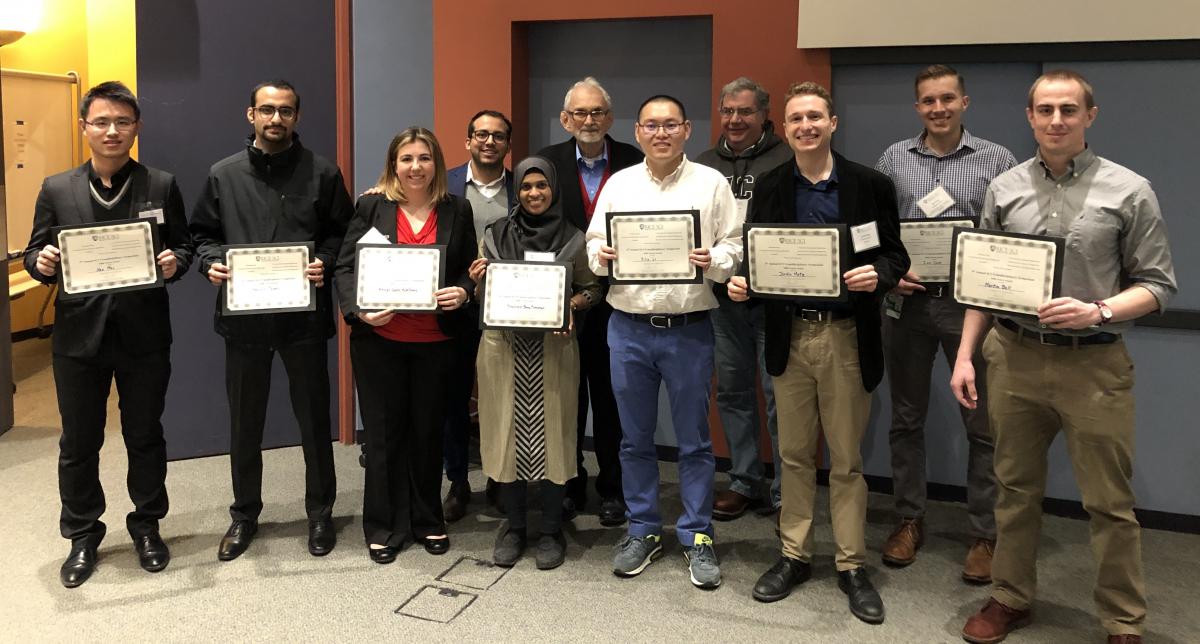 From left to right: Roy (Hao) Mei (Chemical and Biomolecular Engineering), Hassan Javed (Chemistry), Ashleigh Smith McWilliams (Chemistry), Carlos de los Reyes (Chemistry), Thasneem Banu Frousnoon (Chemistry), Dr. Robert Curl (University Professor, Pitzer-Schlumberger Professor Emeritus,Chemistry), Yilin Li (Postdoctoral Research Associate, Chemical and Biomolecular Engineering), Dr. Alberto Pimpinelli (Executive Director, Smalley-Curl Institute), Jordin Metz (Chemistry), Ian Cone (Applied Physics), and Martin Bell (Applied Physics)
Faculty Keynote Speakers
Dr. Aditya D. Mohite
Associate Professor of Chemical and Biomolecular Engineering and Materials Science and NanoEngineering
Dr. Jacob Robinson
Assistant Professor of Electrical and Computer Engineering and Bioengineering
With an emphasis on promoting professional development, the meeting will provide presenters with an opportunity to fine-tune their oral presentation skills. We are partnering with the Center for Academic & Professional Communication (CAPC, formerly CWOVC) to provide a special workshop on developing talks and one-on-one coaching sessions!